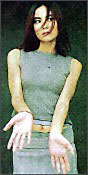 There seem to be so many clothes that Faye has worn before. Some of them looked ethereal on her and also some of them just were fashion disasters. But the Faye now is synonymous with trend-setting clothes and avant garde style. I have some favorites among the heap of clothes that she has worn before. I prefer Faye in skirts rather than pants because sometime when Faye wears pants she can look kind of unapproachable and distant!

The first set of clothes is this jade green number. I really like Faye in tank top and knee length skirt combo. She looks even more ethereal with the wind blown hair and the green eye shadow. The second one is the black leather dress she wore to a certain ceremony. Even Carina Lau has the same pair but in a more muted gray tone. I like her hair then, it had 2 swooping tails. Very cool. And the shoes. What can I say? Cool again? I noticed that the dress had a short train of white cloth.. Something white, with a certain shot of lilac. It looks really ethereal from the back though. And Faye just looks really radiant!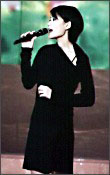 The third one is probably an Ann Demeulemeester. Faye wore this to an anniversary of TVB. She was the leader of the team of female singers! She just looks so simple with the touch in being the mangled collar with the simple skirt. She did change her outfit to a pair of pants with the same top during the show. I just think that Faye looks really feminine and chic back in 97. She wore lots of somber colors such as black, gray and white...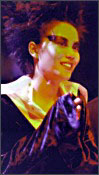 Faye also wore this very retro inspired top during her Heineken Concerts when she performed together with the Gypsy Kings, Richard Marx and Wu Bai. Her hair really rocks and the make up is so death metal rock band inspired. She also had a change of outfit, opting for a simple black top with slits at the elbows during the concert. She really sang well. There are Real Videos of the concert here. And there was thing about the clothes being bought from Stanley Market, a bazaar in Hong Kong. I thought that it was kind of interesting!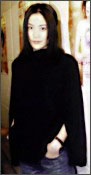 Next is for her Scenic Tour Concert Press Conference. She wore this really cool top that looks like a poncho with faded jeans. I love her hair style. Very gypsy inspired. This look was in back then and many stars sported this get up. I really like the overall simplicity of the top.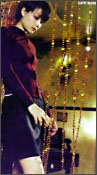 It's cool and I think its very comfortable not to be restricted by any sleeves or hemlines. This is definitely cool. And after all these years of supporting Faye, I just can't help but be mesmerized by the gaze in her big eyes. Next is the clothes for Anesthesia MTV. I think Faye looks just too good in skirts and long sleeved tops!The maroon top had some detailed golden stitches to it. I just found it too sweet while at the same time seductive with the almost black enameled nails that Faye had. And the make up is just cool. The next one is for her award ceremony. She just returned from her concerts and she look very fresh and radiant. I really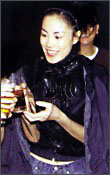 like the black top with frills of leather enhancing the effect. She did wore purple gauze then took them off. I think the gauze looks really cool. Zing keeps on outdoing himself now and then. But Faye looks much better without the gauze. And why does she need the gauze anyway? I just can't go on describing.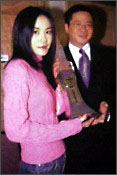 Next is when she was interviewed by CNN for their Q & A session. Faye was the first female Chinese to be interviewed by them. And I think she did dress up for the occasion, especially with the sweater she may wanted the whole interview to be cosy and comfortable. The top was once worn by Ally McBeal but she had it in a brown tone. I think it looks really good on Faye as she has really long arms and they are so slender and slick!

I love her look from the Exasperation album. It looks so raw and beautiful. And the clothes she wore were simple with slight hints of retro garb! Love the innocent sauciness of the album!Ah.. I am almost at a lost for words...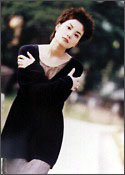 The next one. I had love for this picture since the first time I laid eyes on it. Faye looks just so pretty and the top looks so good on her, enhancing her slim body. Luckily she has put on weight lately. She looks much more better after putting on weight. The next few photographs are slightly older ones. But I just love how spunky and cool Faye is back then especially with the tattered jeans and the spiky hair!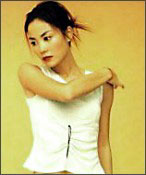 Faye rules. She really looked very seductive and sexy back then. She is still now, with 1999 being her Glam-Rock era. I enjoyed writing up this editorial column. Hope you guys enjoyed it just as much as I did.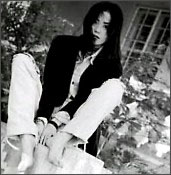 Back to Apparel - Home
Many thanks to people who provided the abundant pictures! Especially Megan and JayPee